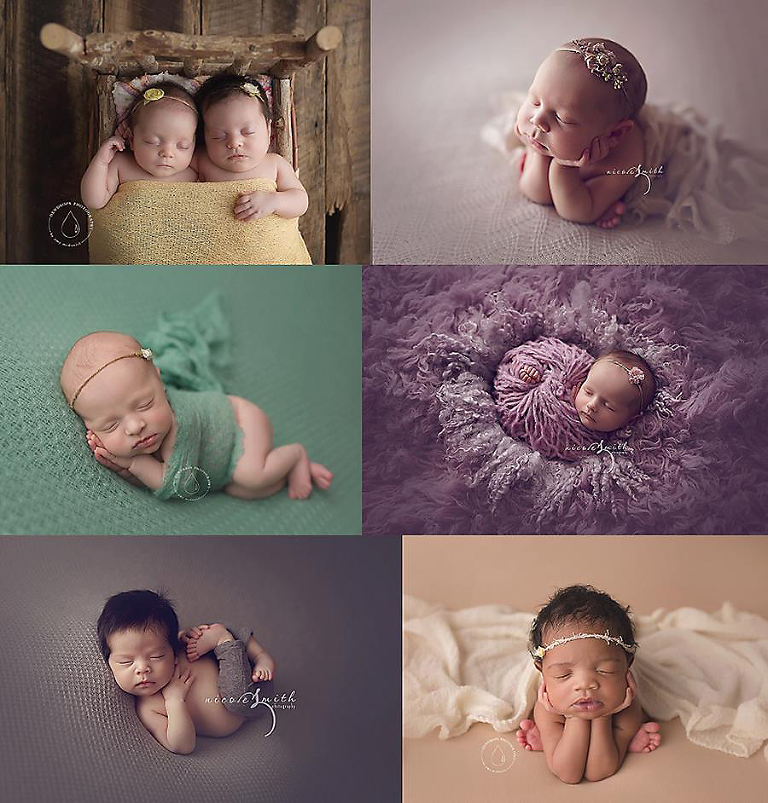 Join me and Nicole Smith Photography for this complete lighting newborn workshop. We will cover everything you could possibly need to know about newborn photography and have a few laughs in the meantime!Amy will be covering STUDIO lighting, camera settings, custom white balance for best skin tones, exposure and how to get the best image Straight out of Camera. Nicole will be covering NATURAL light and her unique styling with her focus on simple organic styling, wrapping techniques and angles. You will learn how to safely pose newborns and to refine and perfect each little finger. We will cover soothing, transitioning, and how to prep parents.You will be able to use all and the images you take for your portfolio.
Weather permitting: We will also meet in the evening for outdoor newborn session

Both photographers will go over how they post process in Photoshop and ACR.

Weather permitting we will be heading outdoors for some incredible sunset maternity and newborn images!

Nicole and Amy met online and became fast friends, so they decided to teach a workshop in Texas together where their attendees have given them rave reviews. They all agreed that they learned so much and had a fun time! Nicole and Amy will discuss both in person sales and online sales.
DETAILS
$1,800 USD Non-refundable
$800 deposit USD Non-refundable.
Final payment due 1 month prior to workshop.
WHAT'S INCLUDED
Lunch and Snacks
Continued Support Via Facebook, Email and Private Group
Vendor sponsored goodies
WHAT YOU NEED
Basic Knowledge of Photoshop.
You must own and understand DSLR camera, and are comfortable shooting in Manual Mode and have basic Knowledge of aperture, shutter speed, and Iso settings.
I recommend either 35mm or 50mm.
You do not need a computer, but are welcome to bring a laptop if you would like to work along side us while we demonstrate Post Processing.
You are responsible for your accommodations and airport transfers.
Day 1
9:00: Meet & Greet
9:30: Divide into two groups to learn our beanbag workflow with studio and natural light. (You will switch teams on day 2.)
12:30: Lunch, light snacks and beverages included
1:30-4:00: Prop, parent and sibling setups with both
4:00-5:30: Editing workflow from each photographer Q&A business discussion.
5:30: Head to outdoor location for maternity and newborn posing (Weather permitting) **Dinner to follow – included
Day 2
9:30-12:30: Switch teams for more beanbag posing with studio and natural light.
12:30-1: Say Goodbye
Studio address:
Dewdrops Photography 1913 Wrights Mill Rd. Auburn Al 36830
You will fly into the Atlanta airport. I suggest Courtyard by Marriott in Auburn on Pace Ave. and Groome Transportation from the airport to Auburn or renting a car.
Follow link here to register: http://dewdropsphotography.bigcartel.com/product/dream-baby-newborn-workshop-auburn-al-october-5th-6th-2016-deposit-only