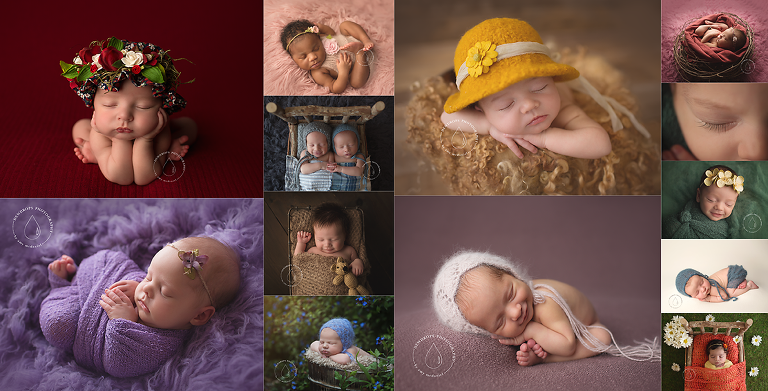 Learn how to safely pose newborns and to refine and perfect each little finger. We will cover soothing, transitioning, and how to prep parents. We will cover studio and a little natural light.
Learn my camera settings, white balance for best skin tones, exposure and how to get the best image Straight out of Camera.
Bring your cameras because you will also be shooting each pose and learn all about angles!
We will also be doing an outdoor newborn and maternity portion in the evening**weather permitting**
Watch me edit 2-3 newborn images start to finish and have an open Q&A discussion time over lunch.
You will be able to use all the images you take for your portfolio.
Deposit 500.00 USD approx 326.60 GBP
Total 1100.00 USD approx 718.52
Non-refundable
Limited to 8 students
9:00 Meet and Greet
9:15-12:30 beanbag workflow
12:30-1:30 Lunch and editing
1:30-5:00 Prop, flokati, wrapping and parent shots
**weather permitting** outdoor newborn and maternity
What it includes:
Lunch and Snacks
Continued Support Via Facebook, Email and Private Group (Conditions may apply.)
Vendor sponsored goodies
Limited to 8 students!
Studio Lauren Murphy Photography
block 7, South Avenue, Blantyre Industrial Estate, South Lanarkshire Glasgow G72 9UP
follow link here: http://dewdropsphotography.bigcartel.com/product/dewdrops-scotland-workshop-june-9th-2016-deposit-only
Reviews:
Amy's workshop is absolutely incredible and taking it was one the best decisions I made in my photography career! I had been struggling with newborn poses and angles and finished every newborn session feeling frustrated. Amy not only showed us step by step how to create beautiful images from camera settings, props, set up, posing, angle, lighting and editing -but also gave us tons of opportunity to practice and continuous feedback!!!
It was so inspirational and enlightening leaning from her! And now I feel so much more confident in my work!!! I absolutely recommend this workshop to anyone wanting to learn to perfect the art of photographing newborns!!! Livia DeBonet

***I hosted Amy McDaniel and Nicole Smith's Dream Baby Workshop in March 2014. Having attended several workshops in the past, I thought I knew what to expect but I was BLOWN away at what these girls were able to deliver to their attendees. Nicole and Amy truly walked through (step by step) each aspect of their shooting and were able to give each attendee one on one time to go over their shots and critique. Now, one would think this is a pretty basic part of a workshop but attendees don't always get good one on one time with the teachers – especially if the group is large. I was really impressed by how thorough they were with each photographer and you could just sense that they were invested in each person and really wanted to see them grow from the experience. The covered both the technical and the artistic side of shooting as well as took the group step by step through editing. I KNOW that the attendees left with a sense of accomplishment and arrived home determined to put their new found skills to good use! Last, photography is about so much more than good styling and shooting, it's about the heart behind it. I LOVED that Amy has a group for her workshop and mentees where girls can ask continual questions and follow up to see progress. It's such an active, amazing group of women and from that group there was even a prayer group specifically for photographers born. It's SO refreshing to see photographers come together in a Christian way to support one another. If you are looking to get the best for your money (and SO MUCH MORE), I would highly recommend this experience to any newborn photographer! Jackie Cream n Cocoa Photography
***Your workshop was absolutely inspiring and amazing. There is so much love and talent that go into each and every beautiful picture. I am beyond blown away and in awe of you. You are just incredible with those sweet little ones. Thank you so much for everything. I loved meeting you.
Jessica
***I am thrilled that I had the chance to attend your Dewdrops Photography workshop with Nicole Smith Photography this past weekend. I couldn't have picked a better workshop or group of ladies to spend the weekend with. Not only are y'all wonderful photographers but you are both great teachers as well. Thank you for being so attentive and guiding me through all the steps to getting consistently great shots. I really appreciate that you were open books of knowledge and answered all my newbie questions.
Not only was it jam packed with information, tips, and tricks but also with FUN!! You two are so sweet & totally hilarious!! I had one of the best times of my life! I laughed til I (almost) peed my pants.
Thanks for the memories (& education). LOVED IT!!!
Dawn
One from Dewdrops workshops:
***I cannot tell you how awesome it was to spend the weekend learning from you. I had my first newborn session less than 24 hours after leaving workshop and I felt so empowered and excited to put into practice all that I learned. You are truly amazing and I am so thankful that you are willing to share your art and for the friendships created in Chicago. Worth every.penny.and.some!
Kayte Legacy Portraits
***The world of newborn photography is ever-so saturated and finding the impeccable package of fabulous posing plus amazing style and safety, can honestly be quite challenging in this competitive market. As someone that just started photography this fall, I found exactly what I needed to take my business and talents to the next level! This weekend, I had the opportunity to learn from Nicole Smith Photography and Dewdrops Photography by Amy McDaniel in an amazing workshop where both of these inspiring photographers combined and brought all of their secrets to the table to share….
If you are looking to grow as a newborn photographer and continue to keep things fresh, their workshop is where it's at! Captured by Clay Photography
***THANK YOU AMY for such an incredible experience and learning opportunity at your Cincinnati workshop with Nicole Smith Photography!!! I loved every second of it and learned an incredible amount of knowledge! I can not wait for my next session and feel completely at ease now about so many aspects of my business. You two were amazing instructors and our host (Jackie from Cream n Cocoa Photography) was incredibly accommodating and lovely! Had a great time, made new friends, took my work to the next level and got to practice. AMAZING!!! DULCE BABY photography
block 7, South Avenue, Blantyre Industrial Estate, South Lanarkshire Glasgow G72 9UP