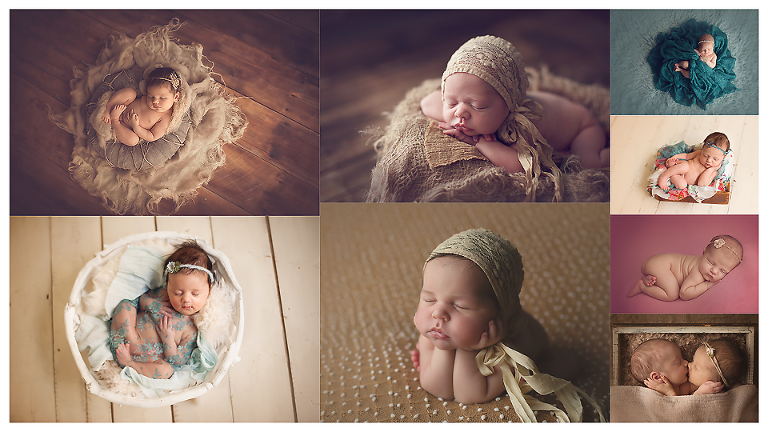 Join us for this 2-day special event that will cover everything you could possibly need to know about newborn photography. Learn how to safely pose and handle babies, soothe and transition for the most efficient workflow and perfect the details.
Each of us will show you how to get the best images straight out of the camera by teaching the proper camera settings for studio and natural light. Learn all about our styling process and how we setup for each session for a breathtaking gallery.
You will hear all about our how we run a successful business and learn different marketing tips during our group Q&A session. Also, each of us will be walking you through our step by step editing process and how we handle images from start to finish.
Weather permitting we will be heading to the beach for some incredible sunset maternity and newborn images!
Day 1: Meet and Greet
9:30: Divide into two groups to learn our beanbag workflow with studio and natural light. (You will switch teams on day 2.)
12:30: Lunch provided
1:30-4:00: Prop and parent shots from all
4:00-5:30: Editing workflow from each photographer
5:30-sunset: Head to beach for maternity and newborn posing
Day 2:
9:30: Switch teams for more beanbag posing with studio and natural light.
12:30 Lunch provided during Q&A discussion panel
1:30-3 Combine teams for more prop shots, 6-9 month old setup and hands on wrapping!!!!
3:30 Say goodbye
Total number of attendees is 20 with 4 teachers with groups divided up each day. It's going to be an incredible experience and we hope to see you there.
Cost: 1750.00 USD Non-refundable
We are not taking attendees within 100km of Pyrmont and Beaumont Hills.
To register click here: http://dewdropsphotography.bigcartel.com/product/perth-workshop-february-13-14-2016-deposit-only